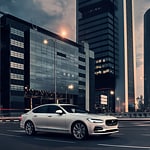 Volvo produced an exceptionally luxurious sedan when creating the S90. The stylish look appears like something right out of a big-budget action movie. The performance and visuals count for a lot, and so does safety. Volvo wants to safeguard its customers, which is why the S90 comes with solid safety features.
Advanced technology serves as the core of the many safety components in the S90. Yes, the primary responsibility of safety rests with the driver. Volvo helps the driver stay secure with City Safety, a tech system designed to warn drivers of a collision. The program could take control of the brakes if necessary.
There's also Run-off Road Protection, a design innovation that allows the front seat frame to absorb some collision impact. Special seat belt options exist, as well. These safety belts tighten automatically under certain conditions.
See these Volvo S90 safety features and more for yourself at our dealership. Our team can set you up with an unforgettable test drive.