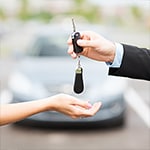 Purchasing a used car could be one of the best decisions you make. Buying a new car can be a good idea, but is it necessary to buy new? For many, a used car is fine. Here are a few insight onto getting the most out of used car shopping.
If you don't know what type of make or model to purchase, perform research to figure out which one is best for you. Some models have excellent safety ratings, while others feature incredible design. Determine what type of vehicle you want, and make sure it falls within your budget.
Be ready to negotiate the final sales price on the vehicle. Prepare yourself to close the deal. Long before taking these steps, prepare yourself for a test drive in Ann Arbor to get a true feel for the vehicle.
We strongly encourage you to take a test drive at our location. And we're also sure you'll appreciate the showroom selection at Sesi Volvo Cars.