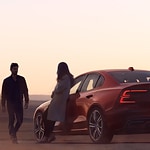 The Volvo S60 is a popular luxury compact sedan. Not only is it stylish and classy, but it also has a spectacular performance. The following includes more details about this car's state-of-the-art performance.
With the Volvo S60, you are in good hands due to its electric power steering personalization and its eight-speed Geartronic automatic transmission-FWD. The electric power steering allows you to automatically adjust according to the speed, and you will have the capability to choose from three steering levels, including low, medium, or high steering assistance for the total speed range. The eight-speed Geartronic automatic transmission-FWD ensures the appropriate gear for you regardless if you want a smooth driving experience with top-notch fuel-efficiency or if you want an optimal driveability and engine response. These performance features are just two of a plethora of amazing performance features of the Volvo S60
You can't go wrong with this luxury Volvo S60. So, come on and take a test drive with us.