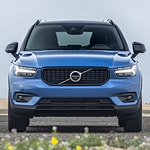 Uniquely crafted, the Volvo XC40 R-Design is an ideal compact performance SUV that's popular for many incredible reasons, including those detailed below.
Alloy Wheels

The Volvo XC40 R-Design has alloy wheels that are 19-inch matte black and diamond cut. These elements were intentionally chosen to enhance the overall appearance of the vehicle. While the functionality is a priority, the beauty of the wheels is equally important.

Keyless Entry

?The Volvo XC40 R-Design has a keyless entry feature that only requires you to have the key on your person instead of in your hand. The door handle is sensitive to touch and will open the moment you grab it. This is the type of convenience that makes life a bit easier.
The Volvo XC40 R-Design is inspiring, to say the least. Are you ready for a test drive? You can do that here at Sesi Volvo Cars. We invite you to visit us today.